Honorary degree citations for Michael W. Bonney '80, Nikki Giovanni, Becca Stevens, and Dr. Nirav Shah, delivered by Dean of the Faculty and Vice President for Academic Affairs Malcolm Hill. Conferrals delivered by President Clayton Spencer.
Michael W. Bonney '80
No account of Bates' recent history can be told without our first honorand.
If the story of Bates were a novel, there would be a Bonney (or a Bonney relative) in virtually every chapter. From 1927 to 1950 to 1980 and '81, onward to 2009, 2012, and 2015 — our guest and his wife, Alison, and many other members of their family besides, have been central figures in the Bates story for almost a century.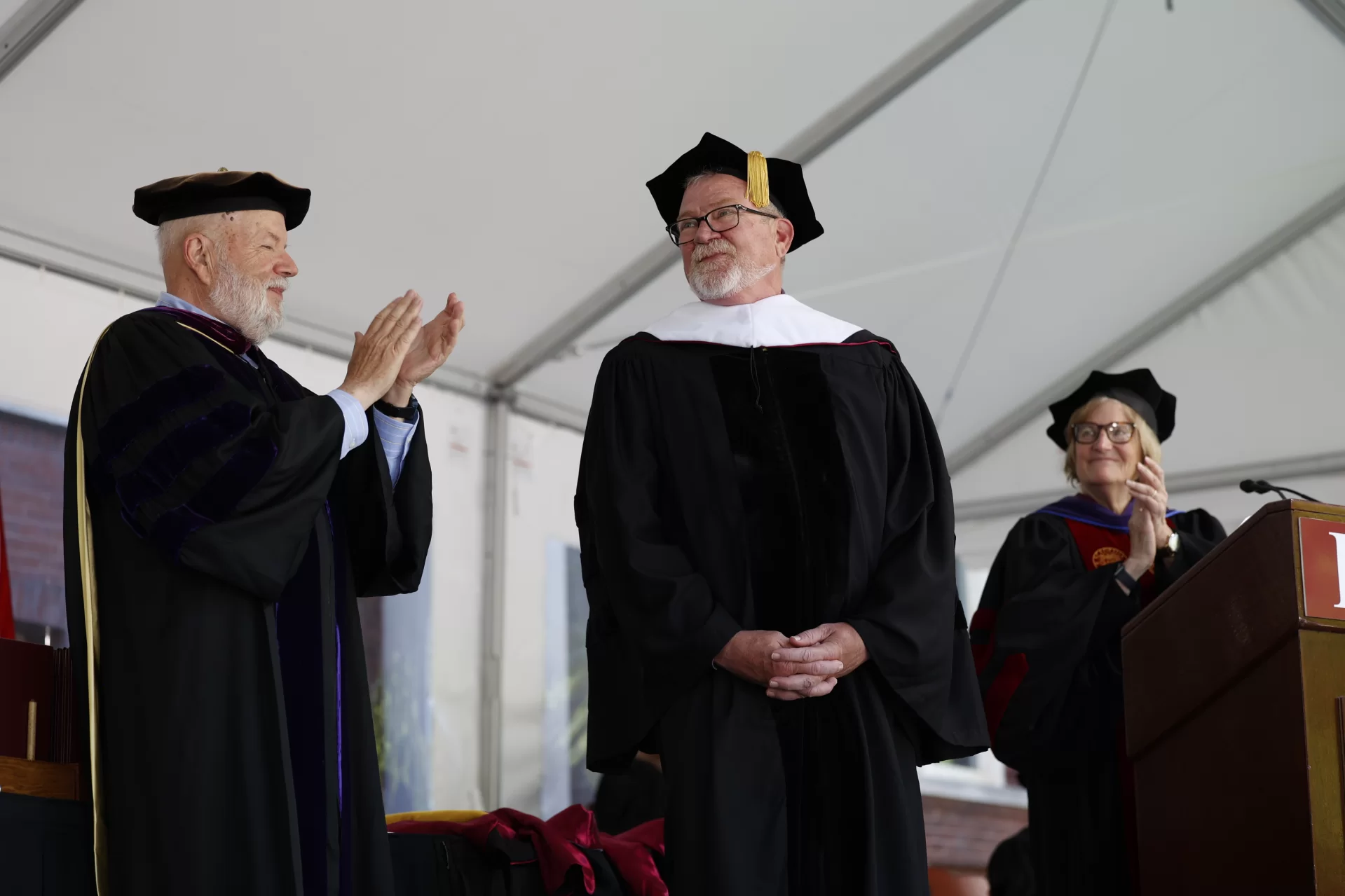 If the story of Bates were a movie, our honorand would win Oscars for both leading and supporting roles all at once. He served on the Bates Board of Trustees for seventeen years, including nine as its chair, charting an ambitious course for the college and leading it through a presidential transition and the launch of its largest-ever fundraising campaign, all while transforming the governance practices of the Board itself. Along with the other Bonneys of Bates, he has been an exceedingly generous supporter of the college through the Bonney Family Foundation.
If the story of Bates were a tapestry, his threads would be woven throughout. Not only across time, in the many generations of Bonneys at Bates, but in the John E. Kelsey and Stella James Sims professorships that recognize outstanding Bates faculty; in the Catalyst Fund, which supports innovation and experimentation; and in his service as co-chair of the Bates Campaign, which will touch every aspect of the Bates experience and strengthen the Bates endowment for generations to come.
And if the story of Bates were a blueprint, its focal point would be Bates' newest landmark, the stunning Bonney Science Center, a transformative space for teaching and discovery in science and beyond.
However we tell it, the story of Bates is full of Bonneys. But our honorand's story neither begins nor ends on this campus. He has distinguished himself as one of the leaders of American biotechnology, serving for over a decade as CEO and director of Cubist Pharmaceuticals, steering it to the top of the industry — including the most successful U.S. launch ever of an intravenous antibiotic, Cubicin, to fight methicillin-resistant infections. Today, he is executive chair of Alnylam Pharmaceuticals, the world's leading gene-silencing company, vice chair of the Gulf of Maine Research Institute, and trustee of the global environmental nonprofit Rare.
He has won numerous awards for his work in biotechnology, but he says he is proudest of the work he has done to support the next generation of leaders in science. For the many ways such work has been made manifest here—for making Bates so central to his own story—and for his steadfast commitment to this place and its people, we are eternally grateful.
I present Michael W. Bonney for the degree Doctor of Humane Letters.
Spencer's Conferral
Whenever and however we tell your story, we tell it with gratitude and pride.  We know what this college means to you, and we only hope that you know how very much you mean to us.
Therefore, by the authority vested in me, I confer on you the degree Doctor of Humane Letters, with all the rights, privileges, and responsibilities thereunto appertaining.
Nikki Giovanni
Our next honorand might fairly be called the poet of possibility.
Even when she is describing the too often oppressive and unjust realities of the Black experience, her poetry possesses a singular spirit of openness to what could and should be. From Black Feeling, Black Talk in 1968 through Make Me Rain in 2020, she reminds her readers of the potential within ourselves, in our relationships to one another, and in our communities.
As an undergraduate at Fisk University amid the birth of the Black Arts Movement, she discovered new possibilities in the intersections of art and politics and identity. Soon after she graduated in 1967, her poems were first shared with the world with the publication of Black Feeling, Black Talk. She self-published the book, saying later that she had "decided to take [her] poetry to the people, and if they rejected it, that would be that." They did not reject it — they embraced it, purchasing 2,000 copies of the stapled-together volume in just a few months. Black Feeling, Black Talk was soon followed by the similarly self-published Black Judgement, and in 1970, the publisher William Morrow released both texts together.
She continued to expand her sense of the possible over decades of artistic production and exploration, and is today widely considered to be one of the foremost American poets of the twentieth century. Along with Gwendolyn Brooks, James Baldwin, Amiri Baraka, and others, she is also one of the leading voices of the Black Arts Movement. She is frequently praised for having addressed her work not just to those leading the Civil Rights Movement, but to ordinary readers as well. She has taught at Virginia Tech since 1987, and has held the title of University Distinguished Professor since 1999.
And when her university community suffered unthinkable loss at the hands of a student with a gun in 2007, it looked to her for words of hope and healing. As she honored their grief, and their unity in recovering, she also acknowledged that all members of the community shared a need for growth. "We are better than we think," she said, "and not quite what we want to be. We are alive to the imagination and the possibility we will continue to invent the future through our blood and tears, through all this sadness."
I present Nikki Giovanni for the degree Doctor of Letters.
Spencer's Conferral
Your genius is the gift of the possible
And the light you shine illuminates not just our battles and burdens
But our greatest joys, our deepest loves, our highest selves.
Therefore, by the authority vested in me, I confer on you the degree Doctor of Letters, with all the rights, privileges, and responsibilities thereunto appertaining.
Becca Stevens
There is a famous poem by Robert Frost in which a husband and wife debate the meaning of "home." One argues that a home is a place that has no choice but to take you in, while the other says it is more a place where you don't have to do anything to deserve entry. Our next guest would seem to take the latter position.
She is an author, a longtime campus chaplain at Vanderbilt University, and a champion for women stuck in systems of abuse and oppression. She has devoted her life to the idea of home as a need and a right, creating space for those without anchor, without shelter, without support, without hope.
She has understood from an early age what it can mean to experience trauma and the loss of a sure footing in the world. After her father was killed by a drunk driver when she was just five years old, she watched her mother struggle to keep the family together. It was through her mother, she says, that she came to understand the many ways, large and small and sometimes life-changing, that love can be shown by attending to the practical needs of others.
In her recent book, Practically Divine, she writes that "sanctuary is the most practical ideal of all." The notion that what people who have suffered abuse, trafficking, prostitution, and addiction need most is a place to live free of charge and free of restrictive authority is what inspired her to establish Thistle Farms in 1997 as a single home for five women. From there, she extended the idea of sanctuary to include job training, health care, case management, and employment. Today, from those first five beds in one small house, Thistle Farms comprises six residences in Nashville and a national network of organizations that provide similar services and sanctuaries across the country, including Lewiston's own Center for Wisdom's Women and Sophia's House.
She was named a 2016 CNN Hero, a 2014 Humanitarian of the Year by the Small Business Council of America, and a 2011 Champion of Change by the Obama White House.
As she manages the many calls upon her time, our guest says that she doesn't necessarily aim for balance, but focuses on simply taking "the next right step." In the homes she has created, in the doors she has opened, she has helped countless others to do the same.
I present Becca Stevens for the degree Doctor of Humane Letters.
Spencer's Conferral
Like the thistle that is the emblem of your work, you have grown deep roots and helped others attain the groundedness they need to recover, revive, and flourish. You have shown us all the truest meaning of sanctuary — and its greatest power.
Therefore, by the authority vested in me, I confer on you the degree Doctor of Humane Letters, with all the rights, privileges, and responsibilities thereunto appertaining.
Nirav Shah
Were our graduates ever to seek compelling evidence of the value of a broad and rigorous education, they need look no further than our final honorand and our speaker today.
As an undergraduate at the University of Louisville, he double majored in biology and psychology. He went on to study economics at Oxford University, before earning law and medical degrees from the University of Chicago.